800mm Filter Trolley Sambo Creeck BABF800
Industrial filtration solution, Buchner type, mounted on a trolley. Ideal for filtering lipids, and waxes from the winterization process as well as solids, carbon, clay, etc… Filter in minutes what you would normally do in hours. Our trolleys are a leader in depth filtration technology, being the easiest to use, least expensive to operate, and least capital-intensive filtration solution at scale.
CE certified, FDA compliant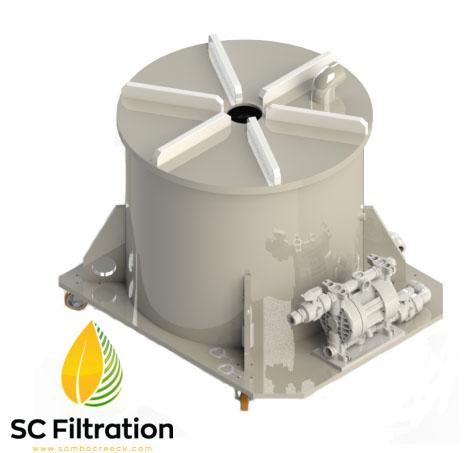 Holds 5 Gallons of crude per batch, 40 gallons of 10:1 Solvent: Crude, 2+ gallons of lipids.
Specifications:
CE certified, FDA compliant
Diameter: 800mm (31.5 inches)
Capacity: About 62 Gallons Total
Height Minimum: 550mm
Shell Material: Polypropylene
AODD Pump: Debem 1/2" Polypropylene case, PTFE Diaphragms, ATEX Zone 2, C1D2 Compliant.
Compressed Air Pressure: From 4 to 8 bar
Absolute Pressure Minimum: 0.2 bar
Compressed Air Pressure Consumption: From 150 to 420 l/min (14.8 CFM)
Recommended Compressor (Not Included): 5HP 17.9 CFM at 100 PSI
Box dimensions, 95 x 125 x 120cm, Gross Weight 120Kg.
Made in Italy
Temperature Rating
-40C FDA Compliant AODD with SS replacement trolley plumbing:
Ethanol Pump -40C AODD FDA Compliant 1″ SS Replacement Parts




+Stainless Steel Trolley Replacement Plumbing for Sambo Creeck Filtration Filters 800mm
Where it excels:
· Filtering out lipids, fats and waxes from crude tinctures high in fats like those from CO2 and BHO/PHO crudes,
· Removing carbon from CIP process,
· Removing biomass particles from centrifuge streams.
· Perfect for small labs.
FEATURES
· CiD1 Compliant Pneumatically powered AODD pump
· Implosion safety valve mounted on casters
· German Polypropylene shell material
· Debem Brand AODD Pump
· Fume Hood Made in Italy
This is a Polypropylene molded plastic filter trolley. This machine is tough, durable, and almost indestructible. PP is impervious to Nitric, Hydrochloric, and similar acids or bases and easily handles Ethanol, Isopropyl, and most other solvents. Our trolley comes with an included diaphragm pump which does the job of active vacuum to filter through the filter paper; no vacuum pump is required. This is a pneumatic pump so there is no risk of sparks. An air compressor is required to supply this machine with compressed air. To operate we place filter paper over a removable grate, then place a seal around the filter paper to prevent leaks. This takes a few minutes to install and even faster to take apart. Add your tincture and begin filtering.
Advantages:
· Operating cost of $0.008-$0.025 per gram of crude.
· Depth Filtration Capable
· Easy to clean and disassemble
· Inexpensive consumables
· Leak-proof filter paper installation with reusable gasket
· High R-Value (Insulating Materials)
· Built with FDA Food Grade Polypropylene
· Will not crack under extreme cold
· ATEX Zone 2, C1D1 Compliant
· Large filtering reservoir
Optional Features:
· FDA Sanitary AODD Pumps
· Stainless Steel Sanitary Plumbing
· Steel Lid with Sanitary Fittings
· -40F Environment Upgrade
Product Enquiry