Impak 23″ All-Electric Vacuum Sealer with Single Heating Element w/40L pump – EVS600SH
Please Note: Work Shelf Sold Separately; *Discounted if Purchased with Machine ($79.90 if purchased separately, $52.75 if purchased with machine)
IMPAK's all-electric industrial vacuum sealers are outstanding units for medical and clean room use. Unlike air driven pneumatic sealing machines, The electric sealers have no need for an air compressor source. Since the sealers do not require an air compressor unit, these motor driven vacuum sealers will work more quietly than other pneumatic driven vacuum sealers on the market. This sealer gives a strong 5mm – almost .25 inch – seal from a frame that is built for either 17.7″ or 13.8″ wide pouches.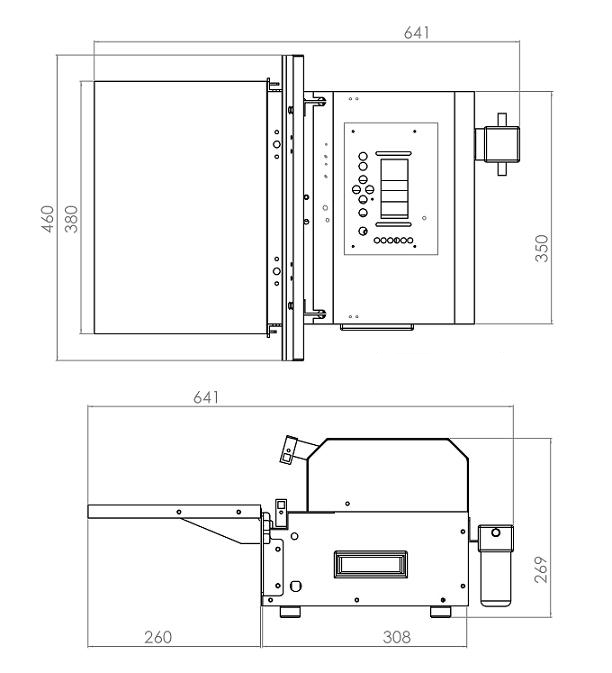 SPECIFICATION:
Sealing length: 23 inch (23.6″ ID, 600 mm)
Sealing width: 0.2 inch (5 mm)
Heating: Single heat element
Pump: Electric
Electric Req: 110V, 50/60 Hz, output: DC 24V
Airflow: 0.88 CFM (40 L/min)
DIMENSIONS (L x W x H):
16.0″ x 27.0″ x 11.0″
Net weight: 50 lb
Shipping weight: 79 lb.
Ships within 2-3 business days
FEATURES:
Nozzle removes air directly from pouch
Excellent for medical, light commercial and clean room applications
No need for an external compressor
Compact size to fit small spaces
Stainless steel body and polished finish
Uses quality components for a long life and minimal maintenance requirements
* Get Gas option to add gas flush function; (+$300) an unit with gas flush function – EVS600DH
---
Need an upgrade on your Amerivacs machine? Here are our customer's testimonials
"Compared to the Amerivac units I have had over the years it feels like I never change the elements and in fact I am not even sure where the spare parts kit that I purchased with this fantastic little machine is located."
"Better quality, stainless steel, and built & shipped to me within 4 days of ordering"
"If I was running IMPAK those machines would be priced higher than their competitor- San Jose, CA Operations Manager"
---
One of IMPAK's clients was using electric vacuum sealer for their medical application.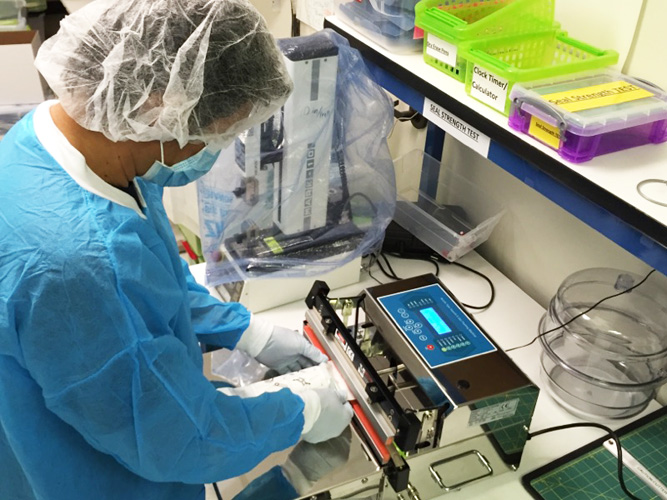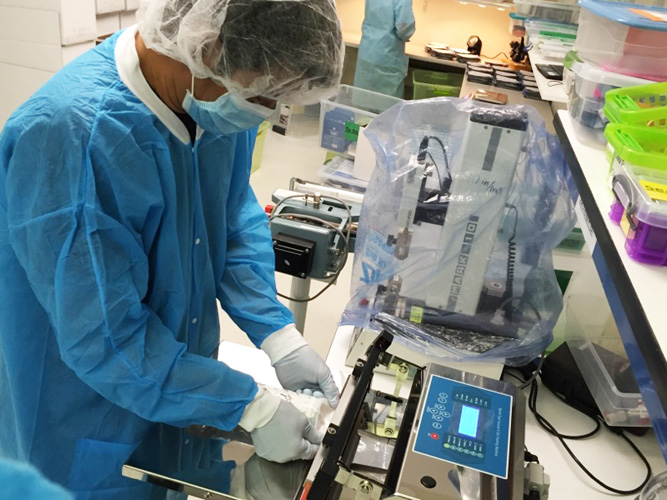 ---
How to Set Up and Use EVS Machine
OPTIONS
Clean Room Ready
Machine taken into Class 100 clean room where all surfaces are wiped down with an 80/20 mix of sterile water/isopropyl alcohol then double bagged and sealed in virgin poly bags.
---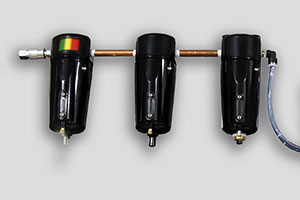 Sterile Air
Two Pre-filters with PM indicators which remove contaminants and water from the compressed air line before they reach the nitrogen generator. After leaving the generator the air is pushed through a Post filter which results in a Sterile Nitrogen flow of 99.9999+% efficiency at 0.01 micron. This is essential for food and sensitive applications where purity is critical.
---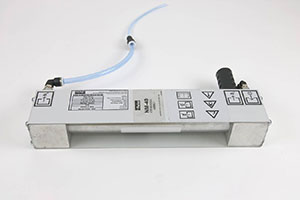 Nitrogen Generator Kit
The Nitrogen generator produces Nitrogen gas (N2) from a standard compressed air line. This model is designed to generate Nitrogen at purities between 95% and 99.5%.
The Nitrogen generator can be used as a replacement for heavy and bulky Nitrogen gas tanks. Its slick and compact design allows users to integrate this with their current gas flush enabled vacuum sealers without having to worry about it taking up too much space. Also, users will not have to worry about a depleting Nitrogen gas source, as our generator produces Nitrogen from a clean compressed air source.
---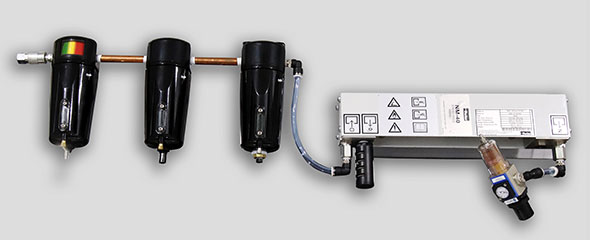 Sterile Air Kit with Nitrogen Generator
IDEAL BAGS
Vacuum Bags with ZipSeal
| | | | | | |
| --- | --- | --- | --- | --- | --- |
| Dimensions | Part Number | Color | Material | Case Quantity | Price ($) per Case |
| 2.0″ x 3.0″ | 0203PM56OZETN | Clear | PAKPM56 – 5.6 mil | 2000 | 196.40 |
| 4.0″ x 6.0″ | V3R0406TEHH | Clear | PAKVAC3.0 – 3.0 mil | 1000 | 57.75 |
| 5.75″ x 10.25″ | V3Z5751025 | Clear | PAKVAC3.0 – 3.0 mil | 1000 | 157.50 |
| 6.0″ x 6.5″ | PM406065ZTE | Clear | PAKPM4 – 3.0 mil | 1000 | 105.60 |
| 6.0″ x 10.0″ | V3Z0610ZTERHH | Clear | 4.0 mil Nylon/Poly | 1000 | 126.25 |
| 7.5″ x 12.75″ | V5Z0751275ZTERHH | Clear | PAKVAC5.0 – 5.0 mil | 1000 | 261.40 |
| 8.0″ x 10.0″ | 05MP0810OZE | Clear | PAKPM56 – 5.6 mil | 500 | 231.00 |
| 8.0″ x 12.0″ | 05MP0812OZE | Clear | PAKPM56 – 5.6 mil | 500 | 206.25 |
| 8.0″ x 12.0″ | V3Z0812 | Clear | PAKVAC3.0 – 3.0 mil | 1000 | 117.25 |
| 13.0″ x 18.0″ | 05MP1318OZE | Clear | PAKPM56 – 5.6 mil | 250 | 247.50 |
| 20.0″ x 24.0″ | 05MP2024OZE | Clear | PAKPM56 – 5.6 mil | 100 | 277.20 |
---
Vacuum Bags (w/o zipseal)
| | | | | | |
| --- | --- | --- | --- | --- | --- |
| Size | Part Number | Material | Description | Case Quantity | Price for 1 Case |
| 2.5″ x 6.0″ | 025PM406ODT | 3.0 mil | Clear bag | 1000 | 57.20 |
| 2.5″ x 10.0″ | V3R02510BTN | 3.0 mil | Clear bag | 1000 | 59.20 |
| 5.0″ x 7.0″ | V3R0507 | 3.0 mil | Clear bag | 1000 | 57.50 |
| 6.0″ x 8.0″ | V3R0608 | 3.0 mil | Clear bag | 1000 | 58.15 |
| 6.0″ x 10.0″ | V3R0610 | 3.0 mil | Clear bag | 1000 | 67.10 |
| 6.0″ X 12.0″ | V4RB0612 | 4.0 mil | Clear bag | 1000 | 214.50 |
| 6.25″ x 9.25″ | V45R0625FS0925 | 4.5 mil | bag with fin seal | 1000 | 137.50 |
| 7.0″ x 8.0″ | V3R0708 | 3.0 mil | Clear bag | 1000 | 75.60 |
| 7.5″ x 9.35″ | V5R0750925 | 5.0 mil | Clear bag | 1000 | 176.40 |
| 8.0″ x 10.0″ | V3R0810 | 3.0 mil | Clear bag | 1000 | 98.40 |
| 8.0″ x 12.0″ | V3R0812 | 3.0 mil | Clear bag | 1000 | 87.95 |
| 8.5″ x 13.0 | V4R08513 | 4.0 mil | Clear bag | 500 | 69.00 |
| 10.0″ x 13.0″ | V3R1013 | 3.0 mil | Clear bag | 1000 | 122.85 |
| 10.0″ x 15.0″ | V3R1015 | 3.0 mil | Clear bag | 1000 | 112.25 |
| 10.0″ x 22.0″ | V3R1022 | 3.0 mil | Clear bag | 500 | 110.00 |
| 10.0″ x 24.0″ | V4R1024OD | 4.0 mil | Clear bag | 500 | 115.50 |
| 12.0″ x 12.0″ | V5R1212 | 5.0 mil | Clear bag | 500 | 172.50 |
| 12.0″ x 14.0″ | V3R1214 | 3.0 mil | Clear bag | 500 | 123.75 |
| 12.0″ x 20.0″ | V3R1220 | 3.0 mil | Clear bag | 500 | 143.50 |
| 16.0″ x 16.0″ | V5R1616 | 5.0 mil | Clear bag | 250 | 157.50 |
| 16.0″ x 24.0″ | V3R1624 | 3.0 mil | Clear bag | 500 | 167.50 |
| 18.0″ x 30.0″ | V3R1830 | 3.0 mil | Clear bag | 250 | 151.25 |
| 20.0″ x 24.0″ | V5R202375 | 5.0 mil | Clear bag | 250 | 295.00 |
| 24.0″ x 48.0″ | V3R2448 | 3.0 mil | Clear bag | 250 | 355.00 |
| 30.0″ x 26.0″ | V5R3026 | 5.0 mil | Clear bag | 100 | 187.00 |
| 48.0″ x 48.0″ | V3R4848 | 3.0 mil | Clear bag | 10 | 22.10 |
Mylar Bags:
MiniPouches, Medium Foil Bags, Color Mylar Bags, Vista Bags, Foil ZipSeal Bags, Foil Tamper Eviden Bags
PARTS INFO
Spare Parts Kit includes:
(2) fuses: 15A, 2A
(2) heating elements
(2) teflon covers
(1) Screw driver
(1) Wrench
(2) Hex Keys
Specification:
Impak 23″ All-Electric Vacuum Sealer with Single Heating Element w/40L pump – EVS600SH
| | |
| --- | --- |
| Work Shelf | Yes, No |
| EVS Stand | Yes, No |
| EVS External 140L Pump | Yes, No |
| 3/8 inch Seal | Yes, No |
| Dual Hand Operation | Yes, No |
| Clean Room Ready | Yes, No |
| Spare Parts Kit | Yes, No |
| Gas Flush | Yes, No |
| Nitrogen Generator Kit | Yes, No |
| Sterile Air (SA) Kit | Yes, No |
Product Enquiry