ENTEXS MINI 3
The Mini 3 is Entexs' lowest throughput system for processing up to 450 pounds per day (via Liquid Nitrogen)
Next generational, efficient ethanol extraction systems scaled to your needs. Compliant with global standards such as cGMP, EU GMP and UL, all ENTEXS Systems are customized to your unique operational specifications. Each ENTEXS System includes installation, third-party peer review, certification and all peripheral equipment. A true turn-key solution.
Our small scale extraction system designed to reduce cost, power requirements and space for a complete processing solution. The high-speed batch centrifuge with closed loop extraction routines uses an ultra cold temperature ethanol-based solvent, capable of removing over 98% of cannabinoids, over 97% solvent recovery, and features a truly hands-free process from biomass to finished product. Our evaporation / distillation unit offers full spectrum crude or distillate offtake with push button control. Terpene Extraction, Crystallization and T-Free add-ons available.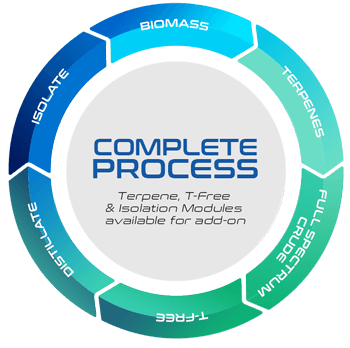 Our systems are designed for optimization on each of your processes.

Hands-free Technology
No touch process throughout the extraction process eliminates potential reduced efficiencies, compromised quality, increased labor and safety risks.​

Cloud Network
From your phone or computer, real-time and trend monitoring of extraction process can be leveraged to optimize efficiency.​

No Winterization
Bypass this extensive and time-consuming step by controlling and maintaining solvent temperature during the extraction process below -50 °C.​

Closed Loop System
Solvent temperature control maintains precise extraction temperature. Combined with our automation, complete control over final product states can be configured and run.

Fully Automated
User configured routines and flow control from biomass to full spectrum crude, distillate and/or isolate
Batch Size: 15 lbs Throughput
Capacity: 300 lbs / 16hrs
Cooling Method: LN or Cascade chiller
Temperature Range: Down to -80 C
ELECTRICAL SPECIFICATIONS
Voltage: 208/240/480 (configurable)
Power: 45 kW (LN cooling) / 65 kW (cascade)
Electrical Rating: C1D2 minimum rated
Batch Centrifuge
Solvent Storage Tank (Insulated)
Tincture Storage Tank (Insulated)
Mag drive recirc pumps
Heat exchangers
Filtration Skid (particulate and color remediation)
Evaporation and Distillation Skid
Rising Film evaporator
Falling Film evaporator
Wiped Film short path distillation
HTF support system
Mag drive gear pumps
Valves (manual and pneumatic)
High vac (mtorr) system w/ Roots blower Cold trap
MECHANICAL SPECIFICATIONS
Footprint: 12'x10'x6'
Temperature Rating: -80 C extraction / 200 C Distillation
Pressure Rating: Full vacuum to 150 psig Solvent Holding
Volume: 120 gallons HMI
Interface: 24 inch touch panel
Controller: FPGA based industrial controller with watchdog UL Listed Components
A. HMI / Controller. Hands free automated control of extraction system allows precise, repeatable extractions with real time performance feedback.
B. Insulated holding tanks allow cold solvent and tincture temps to be maintained while reducing system energy consumption.
C. High speed batch centrifuge extraction module with closed loop and tincture re-use routines includes integrated heat exchangers, automated valves, and sensors for touchless control.
D. Particulate and color remediation module filters cold extract directly from extraction, eliminating the need for winterization. Pressure gauges, sight glasses, and relief valves allow operators to maintain throughput quality at all times.
E. Sight glasses, observation panels, and vacuum ports throughout system offer full transparency into all stages of the extraction process with strategic placement. This enables instant visual feedback of extraction quality and system performance, allowing operating parameters to be fine tuned and preventative maintenance routines to be addressed predictively.
F. Evaporation and integrated distillation module recovers solvent for re-use and post polishes crude in the FFE / WFE combo, eliminating the need for post processing in Roto-vaps. Integrated WFE with short path condenser allows hands free multi-pass distillation routines. Hands free module routines include solvent evaporation, final crude polishing, decarboxylation, multi pass distillation, and CIP options.
Product Enquiry