CL20X-SNS 20lb Closed Loop Hydrocarbon Extraction System
The CL20X hydrocarbon closed loop incorporates the classic components of our standalone Pathfinder system onto a streamlined rackmount unit. This versatile system is designed for efficiency and allows you to perform extraction, remediation, and recovery during each run. It is capable of producing all 'concentrate' products found in dispensaries such as Live Resin, Shatter, Wax, and Budder. 
Process up to 65lbs of material in an 8 hour day when paired with an MVP 6CFM pump and Xeno 4kW heater. Speak with our sales representative to learn about a full turnkey option that meets your needs. TRAINING INCLUDED when you purchase a complete turnkey system!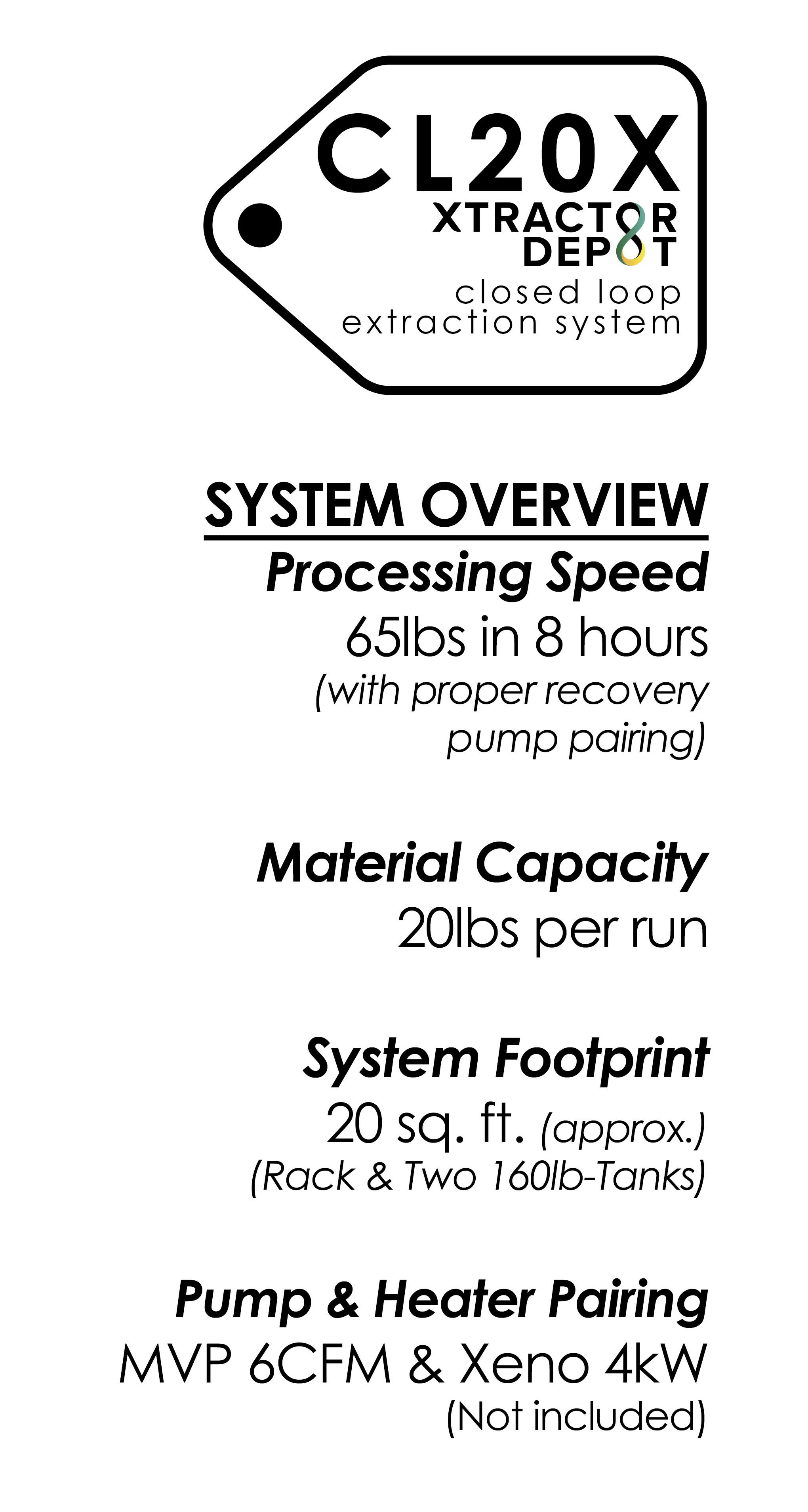 Features:
20lb (packed) total material holding capacity. 

ASME Modular HX for use with dry ice or a chiller

I.R.C. for use with all remediation powder types

Filter dryer aids removal of moisture during solvent recovery (molecular sieve required)

Powder-coated rack for an additional layer of protection against chipping and corrosion

Locking 360 Degrees caster wheels

Superlok ball valves

Sprayball Caps

Pressure release valves (PRV)

Fused sight glasses
Specifications
Material Columns: 6″ x 48″ non-jacket
Collection Vessel & Solvent Tank: ASME 160lb (water weight) single-jacket 
Connections: 1/2″ Compression Fittings, 1/2″ FJIC Hoses
Pressure Release Valves: Rated 150-250PSI (depending on configuration)
Pressure Gauges: -30 inHg to 300 PSIG
Screen Gasket: Viton 4″ 5u-20, Viton 4″ 150-20, 6″ Viton 50 Mesh 
Sintered Disc: 5um
Sight Glasses: 3″ Fused Tri-Clamp
Footprint : 4.3′ L x 3.1′ (13.6 square feet approx.)
Dimensions: 4.3″ L x 38″ D x 84″ H (approx.)
Accessories Included:
10 x 25um material socks 6″ x 48″
1 x Packing hopper
Product Enquiry