Ai 5 Liter Glass Separatory Funnel Kit with All PTFE Valves
Introducing the new Ai separatory funnel kits with all PTFE valves. A separatory funnel, also known as separation funnel, separating funnel, or colloquially sep funnel, is a piece of laboratory glassware used in liquid-liquid extractions to separate (partition) the components of a mixture into two immiscible solvent phases of different densities. Typically, one of the phases will be aqueous, and the other a lipophilic organic solvent such as ether, MTBE, dichloromethane, chloroform, or ethyl acetate. All of these solvents form a clear delineation between the two liquids. The more dense liquid, typically the aqueous phase unless the organic phase is halogenated, sinks and can be drained out through a valve away from the less dense liquid, which remains in the separatory funnel.


Note: We do not offer warranty on glassware. Please contact us if you see any imperfections on the glassware once you received your package.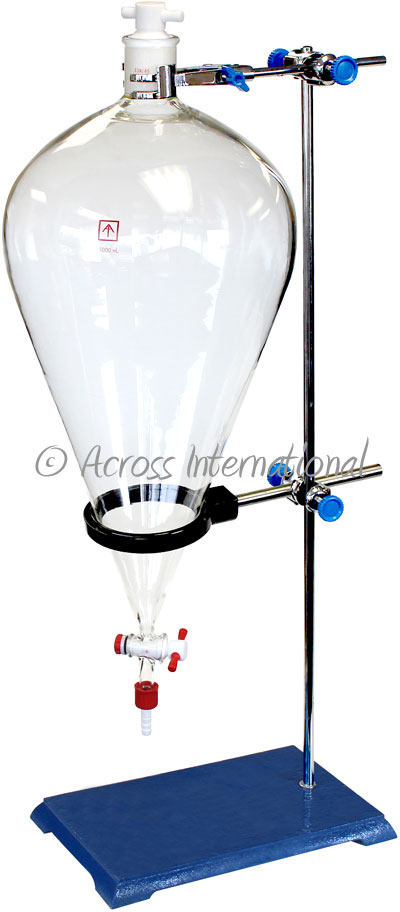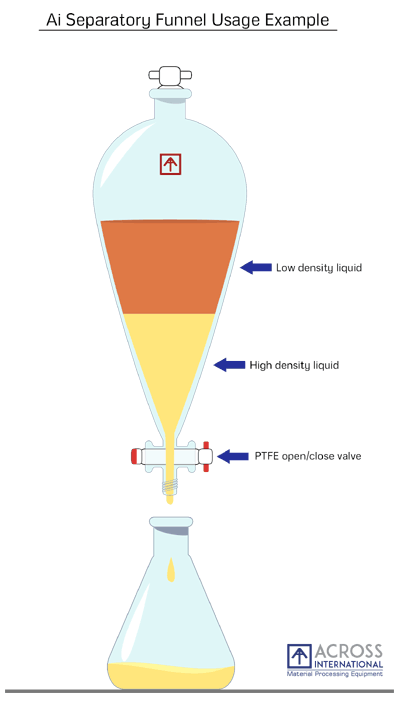 How to use a separatory funnel by FlinnScientific


What's included in this package
| | | |
| --- | --- | --- |
| Part description | Quantity | Part image |
| Ai 5L glass separatory funnel with PTFE open/close valve | 1 set | |
| GL16 connector | 1 pc | |
| Premium food grade silicone vacuum hose | 6 ft | |
| Lab stand (7 x 11.5″ base with 27″ SST pole) | 1 pc | |
| Boss head clamp | 2 pcs | |
| Glass funnel | 1 pc | |
| Rubber-wrapped funnel support | 1 pc | |
| 4 prong stainless steel clamp opens to 3.5 inches | 1 pc | |
Product Enquiry