Ai 3×2″ Pneumatic Heat Press with Dual Heating Platens – 110V
The new 2016 Ai AirPress 3 x 2 compact pneumatic heat press features dual built-in digital thermometers and heaters, allowing you to precisely control the temperature of your transfer. The digital timer will automatically begin a countdown as soon as the unit is pressed shut and provides an audible alarm once the predetermined amount of time has elapsed.

Requires an air compressor (not included) to operate.
**ACROSS INTERNATIONAL ONLINE SALES PRICE ONLY AVAILABLE AND VALID IN CONTINENTIAL US**
**OFERTA ONLINE DE PRENSAS ACROSS INTERNATIONAL SOLAMENTE DISPONIBLE Y VALIDO EN LOS ESTADOS UNIDOS EEUU CONTINENTIAL**
Features
– Solid aluminum heating platens for easy maintenance and even heating
– Air regulator included for enhanced control
– Digital timer and alarm
– Compact, lightweight, with small footprint
– Dual heating platens for increased temperature stability
– Dual LCD temperature controllers display in Fahrenheit or Celsius
– Heavy duty pneumatic ram for optimal press force
– Adjustable pressure
– Excellent for creating solventless botanical extractions

Recommended parts (not included)

– 1/2″ tube compression connection and 12mm tubing
– 33 gallon 1.7 HP oil-free vertical air compressor 165 max psi
– Surge protected outlet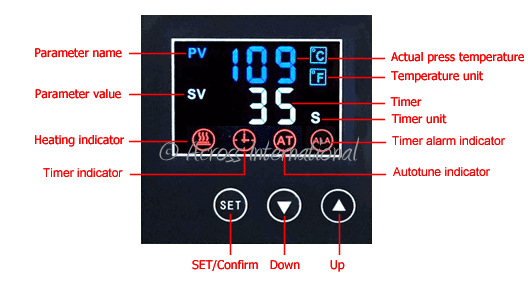 Product Enquiry