We modify RapidSealer™ machines to fit your specific need
In 2018, we took the basic platform of our RapidSealer™, generically known in the industry as the Continuous Rotary Bandsealer, and added a gas flush and vacuum function. Then in 2021 we combined both of them, establishing IMPAK Corporation as the go-to company with the capability of modifying a RapidSealer™ to meet the specific needs of customers that could benefit from enhancements to the machine design. Here are a few examples:
Need: A high speed, economical, heat sealing machine to seal large pouches (see video above) that contain 4.5 lb. (2.0 kg) of frozen seafood.
Challenge: Adapt / modify our highly successful RapidSealer™ continuous band sealer to accept larger pouches than it currently seals. The pouch used in the video is 14 inches (300 mm) long.
Solution: Extend the distance between the sealer and feed conveyor to 12 inches (51 mm). Our stainless steel RapidSealer™ provides high quality, hermetic seals on all moisture-barrier bag materials. It is an ideal solution for food, medical, pharmaceutical, electronics and other products that need added protection against decomposition.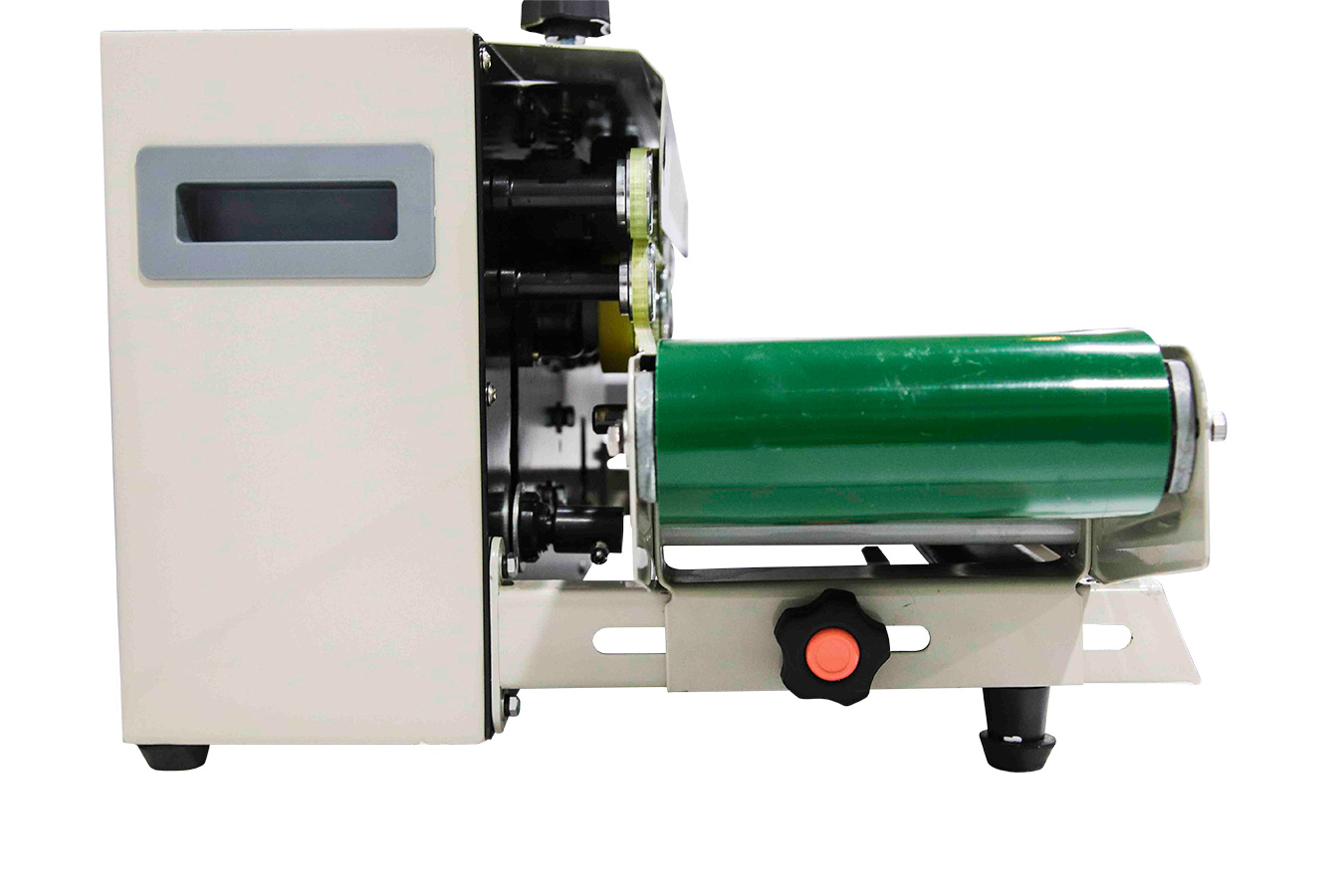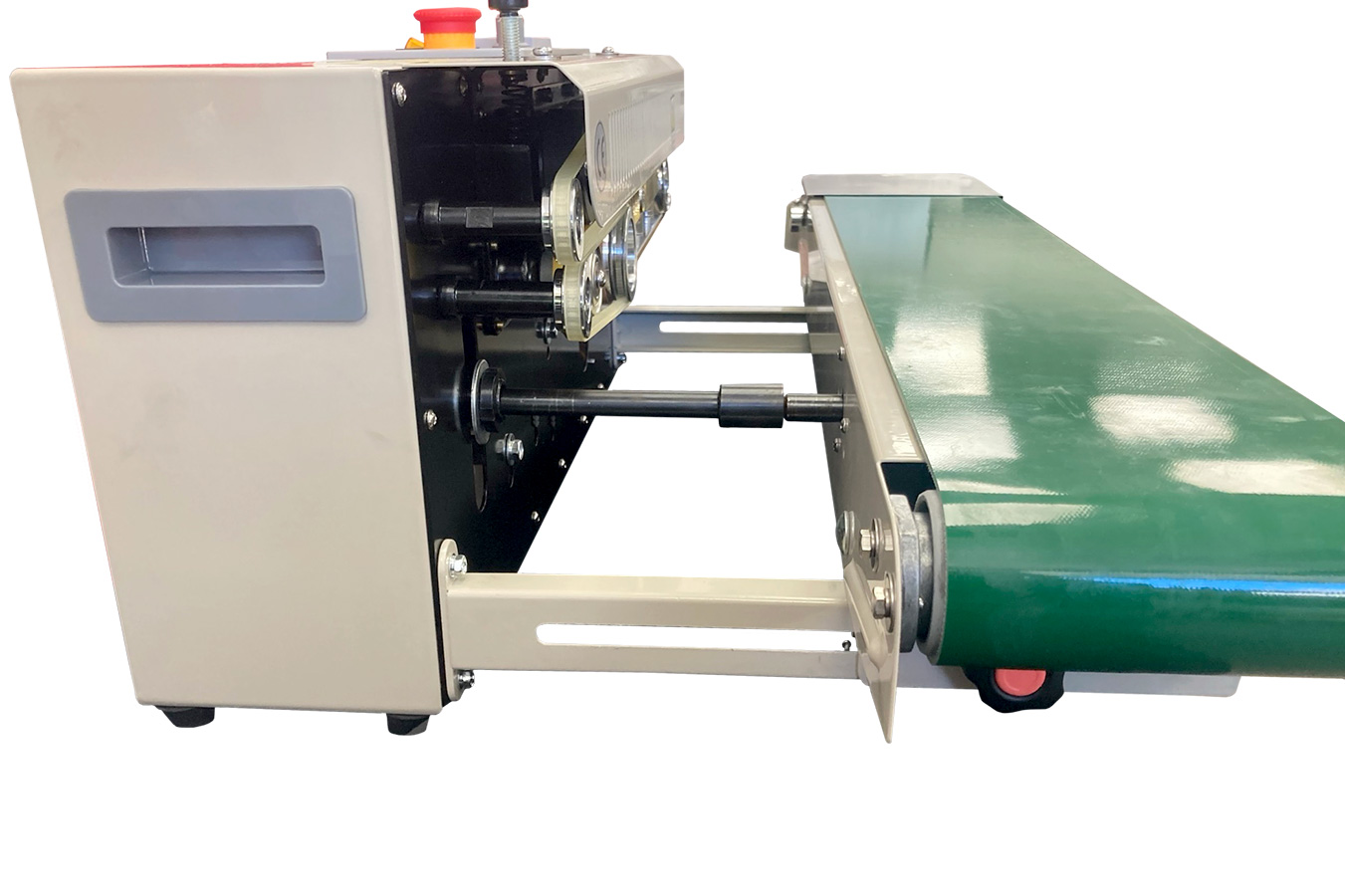 ---
Example 2: Add gas flush and vacuum function – launch VakRapid 2.0 & 2.5 product lines
As a natural addition to our highly successful RapidSealer™ series of continuous rotary band sealers, IMPAK developed VakRapid™ 2.0 with gas flush OR vacuum sealing capabilities. Later, the 2.5 version included both vacuum AND gas flush capabilities. It was this combination of economy and performance that set a new standard for high speed bagging of food, medical, pharmaceutical, and electronics applications that require optimum freshness and shelf life. The VakRapid™ model includes a vacuum cycle after gas flushing to allow virtually oxygen free vacuum-sealed product bags, and provides high quality hermetic seals on all moisture-barrier bag materials. The vacuum and nitrogen gas flush system removes up to 99% of oxygen present, depending on the application, and creates a low-moisture package. The gas flush system can also be used to create a cushion-like buffer to protect contents from damage. The VakRapid™ is economical and extremely competitive when compared to other sealers that offer nitrogen gas flushing for air removal. Additional options include a stainless steel stand with casters for portability, an embossing or dry print letter kit, and a spare parts kit.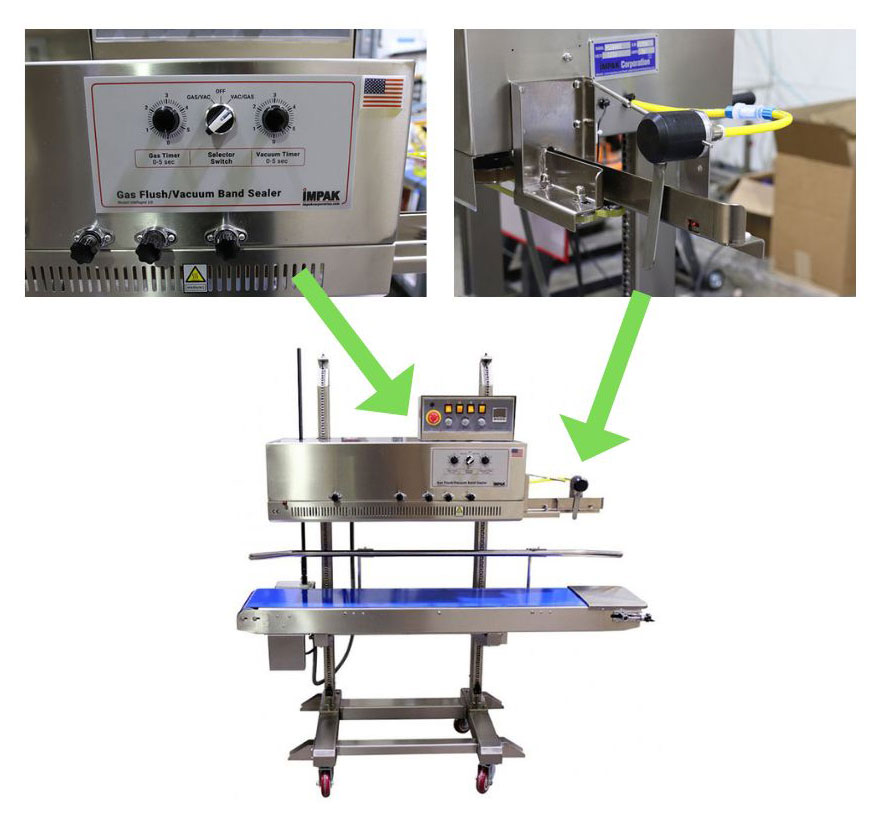 Gas Flush Band Sealer – VakRapidGF
Vacuum Band Sealer – VakRapidVS
Vertical Band Sealer – RapidSealer™
Heavy Duty Rapid Sealers
VakRapid 2.5 Horizontal Band Sealer – Product Overview
---
Example 3: Modify seal width and add optional no crimp seal
All versions of IMPAK RapidSealer™ and VakRapid™ are now available with multiple seal widths and either a smooth or "crimp" (cross-hatched) seal.
The images below show the standard width compression wheels (L) compared to custom-sized wheels (R), one that creates a .025″ width smooth seal and one a 0.125″ width crimped seal.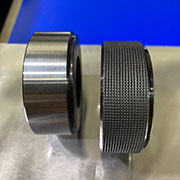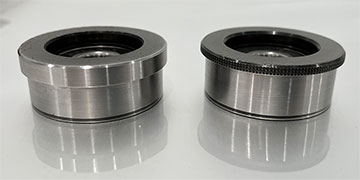 ​​
This applies to the following machines:
RSH1525DC RapidSealer, Digital, Horizontal, Powder Coated
RSH1525SSDRL RapidSealer, Digital, Horizontal, Stainless Steel, Right to Left
RSH1525SSVGFRL VakRapid Stainless Steel, Vac & Gas Flush, Right to Left, Horizontal
RSH1525SSVGFLR VakRapid Stainless Steel, Vac & Gas Flush, Left to Right, Horizontal
RSV1525SSVGFRL VakRapid Stainless Steel, Vac & Gas Flush, Right to Left, Vertical
RSV1525SSVGFLR VakRapid Stainless Steel, Vac & Gas Flush, Left to Right, Vertical
RSH1575SSVGFRL VakRapid Stainless Steel, Vac & Gas Flush, Right to Left, Horizontal, w/dry print
RSH1575SSVGFLR VakRapid Stainless Steel, Vac & Gas Flush, Right to Left, Horizontal, w/dry print
RSV2225SSVGFRL VakRapid2.5 Large Stainless Steel Vertical Band Sealer, Vac & Gas Flush, Right to Left