Microfluidics M-110P (110PV3) Benchtop High Shear Microfluidizer
Pre-Owned inspected and in good working condition.
MICROFLUIDICS MODEL M-110P (110PV3) BENCHTOP HIGH SHEAR MICROFLUIDIZER, S/N 110P-3075, FLOW RATE: 125 ML/MINUTE
A 'Plug & Play' electric Laboratory homogenizer for continuous High Shear Fluid Processing in the lab.
The M110P is a premium laboratory model that is ready to set to work. It's a simple to use, electric benchtop liquid homogenizer.
Using the Microfluidics fixed-geometry Interaction ChamberTM technology and a ceramic (Zirconia) plunger, the M110P is capable of successfully processing a wide variety of fluids, including oil-in-water emulsions, solids-in-liquid suspensions and performing cell disruption of yeasts and plant cells — much of which is performed with as few as one or two passes.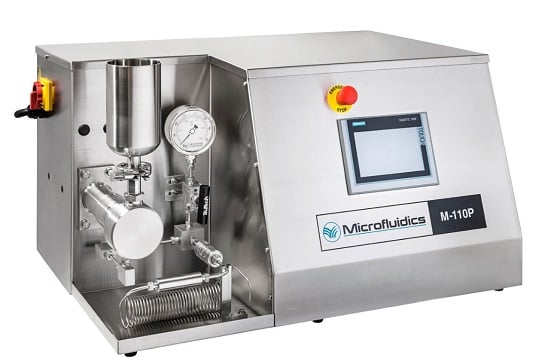 The M110P is powered by a standard 20-amp single-phase electrical outlet. The on-board 1.5 kW (2 HP) electric-hydraulic drive powers a single-acting intensifier pump. Process pressures are adjustable up to 2068 bar (30,000 psi) to produce the desired product results. No need for compressed air or hydraulic cooling water.
This versatile laboratory homogenizer conveniently fits under most standard laboratory chemical hoods.
The lab scale M110P delivers a repeatable process with results that are guaranteed to scale-up to pilot and production volumes.
Product Enquiry