Impak 31″ Custom Pak Retractable Nozzle Vacuum Sealer (PRE-ORDER) – GXVS-31C
31″ Custom Pak Retractable Nozzle Vacuum Sealer
This vacuum sealer machine with mobile stand and separate control head is made from high-grade stainless steel and quality anodized aluminum frame body. This retractable vacuum sealer comes with dual heat elements, PLC touch screen, single-ported exhaust, stainless steel frame, Venturi vacuum pump, and double retractable nozzles as standard features.
Specification:
Model Number: GXVS-31C
Max. Seal Length: 31″
Standard Seal Width: .25″
Electrical: 115 VAC
Vacuum Pressure: 25″ Hg
Air Consumption: 7.8 cfm
Features:
Dual Retractable Nozzles with High-Vacuum Flow Rate
Upper and Lower 0.25″ Nichrome Heating Elements
Mobile Stainless Steel Stand capable of providing 90º sealer head rotation for vertical applications and adjustable height for starting at 37″ from the ground to 40″, 43″, 46″, 49″, and 52″
Touch Screen
GVS series of vacuum sealers.
Unitronics Model V350PLC with full color touch screen:
A 24vdc power supply provides for additional safety, expansion/upgrade ready, and remote access capabilities.
This unit packs all the features normally found on very expensive PLC's.
PLC Touch Screen Control
Touch Screen control:
Allows for accurate control of vacuum, gas purge, seal time & dwell settings.
Programmable:
You can program and store up to 30 recipes.
Venturi Vacuum Pump
Pneumatic Safety-System
Prevents accidental operator injury by use of a back-pressure sensitive micro switch to prevent jaws from locking down in the event an unwanted object (i.e hand or finger) is present in the seal area.
High-Grade Stainless Steel Body, Heavy Duty Anodized Aluminum Frame
Crated Dimensions: 42″ L x 37″ W x 76″ H
IMPAK is the Global Approved Manufacturer of vacuum sealing equipment to Pentagon Technologies, an Applied Materials partner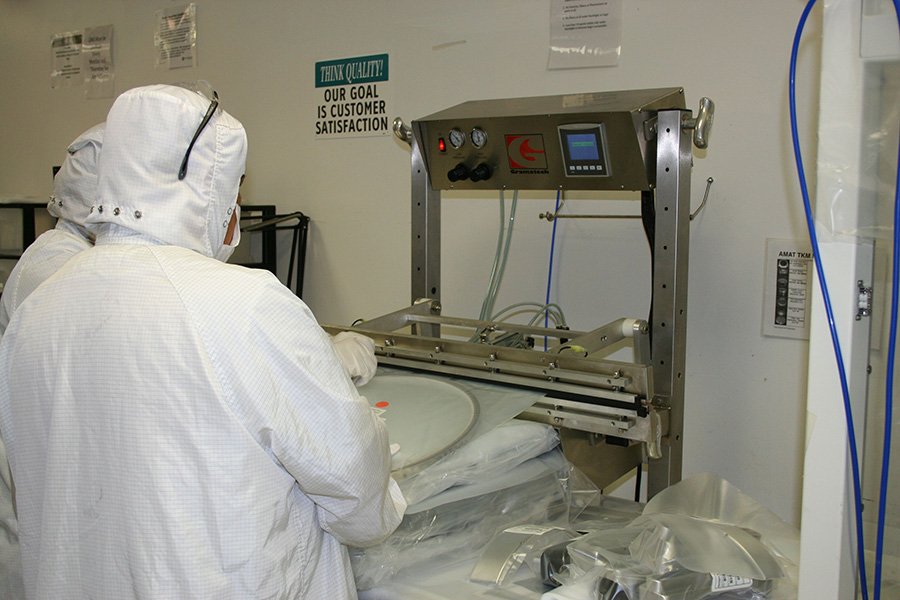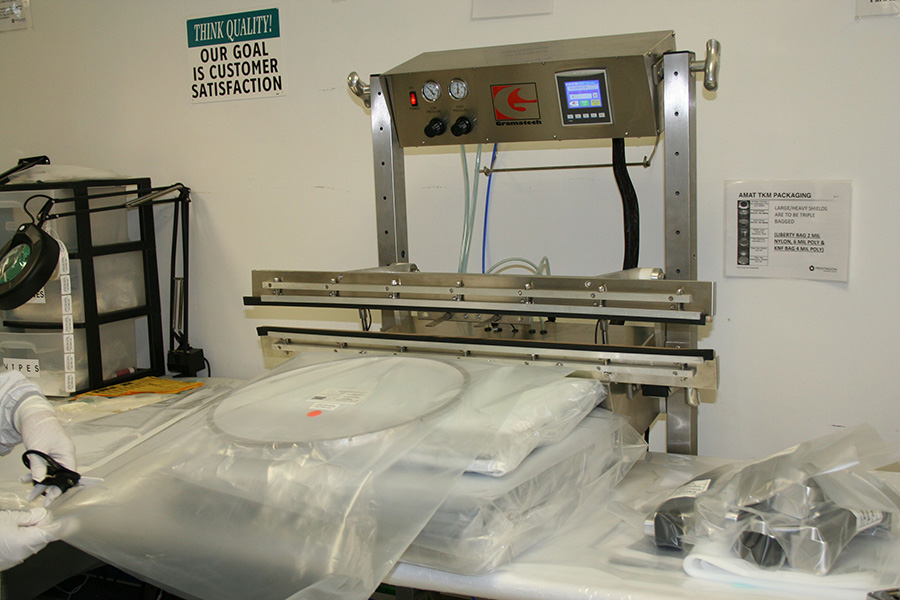 ---
CSA Certification Announcement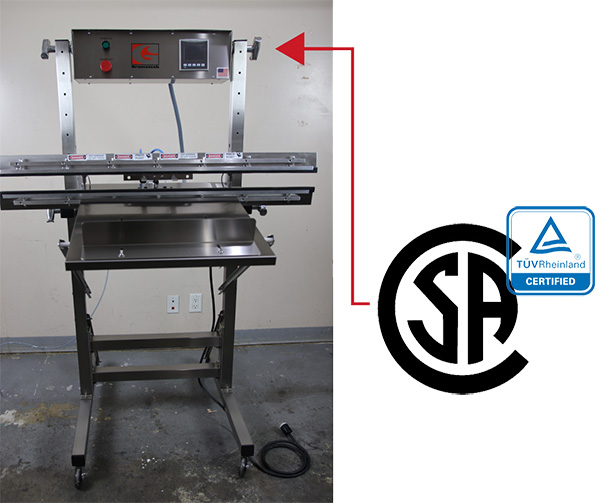 IMPAK is proud to partner with a major Multi-National Pharmaceutical Company and to have been granted a CSA Certification for its industry leading line of Gramatech Vacuum Heat Sealers. "We are now ready to offer CSA registration as an option to our industry leading line of Gramatech Sealers," according to Rajib Hasan, Managing Director, Machine Group.
​As the company General Manager has said, "We are very proud of the machinery we have built to CSA standards." The story below written by Alan Masnek, our resident Certified Packaging Professional (CPPL) and graduate of University of Wisconsin – Stout, illustrates the steps that were taken to design, develop and produce a piece of equipment for pharma MNC. This particular MNC is just one of the many top medical manufacturing firms we are proud to have produced product for.
Our technicians who build these heat sealers state that the Trident option provides the most value of any option on Gramatech machines.
For more information, see the options tab.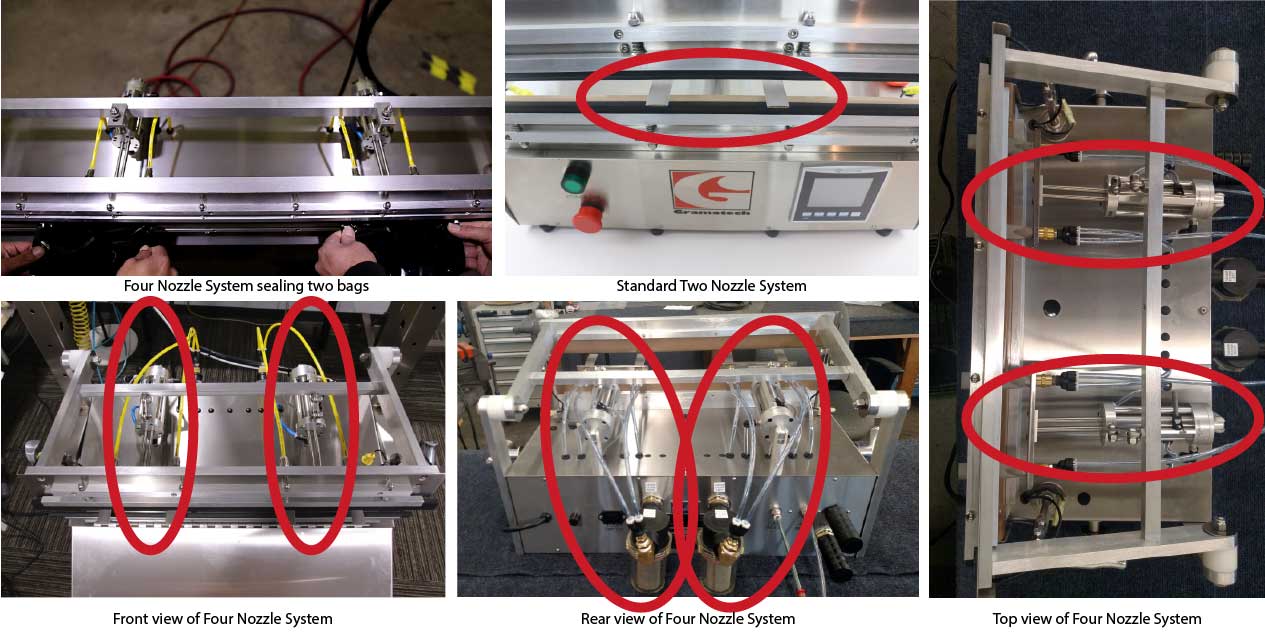 Medically Validatable 36 Inch Workhorse with Optional Trident System
GVS Auto Cycle – Option Feature Demo
Purge Flush Option – Gramatech WorkHorse Unit
High Flow Vacuum Sealer (Medically Validatable)
Medically Validatable 36″ Custom Pak with Vacuum and Gas Flush
Technical Specifications
| | |
| --- | --- |
| Model | GXVS-31C |
| Body | Stainless Steel |
| Sealing Length | 31″ |
| Sealing Width | 0.25″ |
| Clean Room Compatible | Yes |
| Air-Flow Rate | 5 cfm/min |
| Controller | Digital – Unitronics Model V350PLC |
| Adjustable Time | Yes |
| Programmable | Yes |
| Saves Recipes | Yes |
| Optional Dual Element | Standard |
| Power | 110V-120V/60Hz (220V available) |
| Manual Vacuum Mode | Yes |
OPTIONS
Clean Room Ready
Machine taken into Class 100 clean room where all surfaces are wiped down with an 80/20 mix of sterile water/isopropyl alcohol then double bagged and sealed in virgin poly bags.
220V Conversion
This option allows the user to operate the unit in a facility where 220V is needed or present.
0.375″ Seal Width Upgrade
This upgrade changes out the standard 0.25″ elements up to a full 0.375″ each for a wider and more visual seal.
Extra Set of Nozzles (Trident System)
We will add an additional set of retractable nozzles which will allow you to vacuum seal up to four small bags or two medium to large sized bags at the same time. Check the Trident Nozzle option on your order.
PLEASE NOTE: If you order the Trident Extra Nozzle Set option (GO-221) and you also wish to upgrade the speed of your sealer with higher vacuum flow, you will also need to purchase the 10CFM High Flow Vacuum (OPBTVD.)
iS2 System Upgrade
The iS2 (Intelligent Sealing System) is a control system for heat sealing equipment that offers pin-point digital control over time, temperature, and pressure, via touch screen interface.
The system is more than a digital control upgrade, it combines an advanced Siemens PLC and HMI with proprietary pneumatic and electrical components, to deliver temperature control within one degree, accurate sealing time with readings every millisecond. Additional conveniences such as recipe storage, operator locks, and graphs of time/temperature put iS2 enabled sealers in a class of their own. Validation ports allow the user to confirm all parameters from a 3rd party calibration/certification service and data is available to be sent to a dedicated terminal to track and record all seals made by the unit.
10 CFM
Increases CFM from 7.8 to 10 CFM by installing an additional Venturi to the vacuum nozzle assembly.
---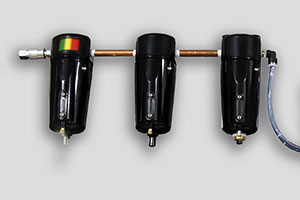 Sterile Air
Two Pre-filters with PM indicators which remove contaminants and water from the compressed air line before they reach the nitrogen generator. After leaving the generator the air is pushed through a Post filter which results in a Sterile Nitrogen flow of 99.9999+% efficiency at 0.01 micron. This is essential for food and sensitive applications where purity is critical.
---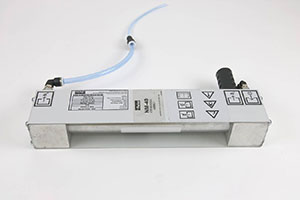 Nitrogen Generator Kit
The Nitrogen generator produces Nitrogen gas (N2) from a standard compressed air line. This model is designed to generate Nitrogen at purities between 95% and 99.5%.
The Nitrogen generator can be used as a replacement for heavy and bulky Nitrogen gas tanks. Its slick and compact design allows users to integrate this with their current gas flush enabled vacuum sealers without having to worry about it taking up too much space. Also, users will not have to worry about a depleting Nitrogen gas source, as our generator produces Nitrogen from a clean compressed air source.
SPARE PARTS
Part Number: GK-GV31
Spare Parts Kit for 31″ CustomPak
Price: $225.70
Includes:
2 – Teflon Insulators
6 – Teflon Covers
2 – Nichrome Elements
4 – White Terminal Blocks
2 – Black Vacuum Rubber
1 – Orange Seal Rubber
1 – 5/32 Allen Wrench
1 – 1/8 Allen Wrench
1 – 1/16 Allen Wrench
1 – Flat-Stubby Screwdriver
Vacuum Bags with ZipSeal
| | | | | | |
| --- | --- | --- | --- | --- | --- |
| Dimensions | Part Number | Color | Material | Case Quantity | Price ($) per Case |
| 2.0″ x 3.0″ | 0203PM56OZETN | Clear | PAKPM56 – 5.6 mil | 2000 | 196.40 |
| 4.0″ x 6.0″ | V3R0406TEHH | Clear | PAKVAC3.0 – 3.0 mil | 1000 | 57.75 |
| 5.75″ x 10.25″ | V3Z5751025 | Clear | PAKVAC3.0 – 3.0 mil | 1000 | 157.50 |
| 6.0″ x 6.5″ | PM406065ZTE | Clear | PAKPM4 – 3.0 mil | 1000 | 105.60 |
| 6.0″ x 10.0″ | V3Z0610ZTERHH | Clear | 4.0 mil Nylon/Poly | 1000 | 126.25 |
| 7.5″ x 12.75″ | V5Z0751275ZTERHH | Clear | PAKVAC5.0 – 5.0 mil | 1000 | 261.40 |
| 8.0″ x 10.0″ | 05MP0810OZE | Clear | PAKPM56 – 5.6 mil | 500 | 231.00 |
| 8.0″ x 12.0″ | 05MP0812OZE | Clear | PAKPM56 – 5.6 mil | 500 | 206.25 |
| 8.0″ x 12.0″ | V3Z0812 | Clear | PAKVAC3.0 – 3.0 mil | 1000 | 117.25 |
| 13.0″ x 18.0″ | 05MP1318OZE | Clear | PAKPM56 – 5.6 mil | 250 | 247.50 |
| 20.0″ x 24.0″ | 05MP2024OZE | Clear | PAKPM56 – 5.6 mil | 100 | 277.20 |
---
Vacuum Bags (w/o zipseal)
| | | | | | |
| --- | --- | --- | --- | --- | --- |
| Size | Part Number | Material | Description | Case Quantity | Price for 1 Case |
| 2.5″ x 6.0″ | 025PM406ODT | 3.0 mil | Clear bag | 1000 | 57.20 |
| 2.5″ x 10.0″ | V3R02510BTN | 3.0 mil | Clear bag | 1000 | 59.20 |
| 5.0″ x 7.0″ | V3R0507 | 3.0 mil | Clear bag | 1000 | 57.50 |
| 6.0″ x 8.0″ | V3R0608 | 3.0 mil | Clear bag | 1000 | 58.15 |
| 6.0″ x 10.0″ | V3R0610 | 3.0 mil | Clear bag | 1000 | 67.10 |
| 6.0″ X 12.0″ | V4RB0612 | 4.0 mil | Clear bag | 1000 | 214.50 |
| 6.25″ x 9.25″ | V45R0625FS0925 | 4.5 mil | bag with fin seal | 1000 | 137.50 |
| 7.0″ x 8.0″ | V3R0708 | 3.0 mil | Clear bag | 1000 | 75.60 |
| 7.5″ x 9.35″ | V5R0750925 | 5.0 mil | Clear bag | 1000 | 176.40 |
| 8.0″ x 10.0″ | V3R0810 | 3.0 mil | Clear bag | 1000 | 98.40 |
| 8.0″ x 12.0″ | V3R0812 | 3.0 mil | Clear bag | 1000 | 87.95 |
| 10.0″ x 13.0″ | V3R1013 | 3.0 mil | Clear bag | 1000 | 122.85 |
| 10.0″ x 15.0″ | V3R1015 | 3.0 mil | Clear bag | 1000 | 112.25 |
| 10.0″ x 22.0″ | V3R1022 | 3.0 mil | Clear bag | 500 | 110.00 |
| 10.0″ x 24.0″ | V4R1024OD | 4.0 mil | Clear bag | 500 | 115.50 |
| 12.0″ x 12.0″ | V5R1212 | 5.0 mil | Clear bag | 500 | 172.50 |
| 12.0″ x 14.0″ | V3R1214 | 3.0 mil | Clear bag | 500 | 123.75 |
| 12.0″ x 20.0″ | V3R1220 | 3.0 mil | Clear bag | 500 | 143.50 |
| 16.0″ x 16.0″ | V5R1616 | 5.0 mil | Clear bag | 250 | 157.50 |
| 16.0″ x 24.0″ | V3R1624 | 3.0 mil | Clear bag | 500 | 167.50 |
| 18.0″ x 30.0″ | V3R1830 | 3.0 mil | Clear bag | 250 | 151.25 |
| 20.0″ x 24.0″ | V5R202375 | 5.0 mil | Clear bag | 250 | 295.00 |
| 24.0″ x 48.0″ | V3R2448 | 3.0 mil | Clear bag | 250 | 355.00 |
| 30.0″ x 26.0″ | V5R3026 | 5.0 mil | Clear bag | 100 | 187.00 |
| 48.0″ x 48.0″ | V3R4848 | 3.0 mil | Clear bag | 10 | 22.10 |
Specification:
Impak 31″ Custom Pak Retractable Nozzle Vacuum Sealer (PRE-ORDER) – GXVS-31C
| | |
| --- | --- |
| 31" Spare Parts Kit | Yes, No |
| Clean Room Ready | Yes, No |
| 220V Conversion | Yes, No |
| 3/8" Seal Width Upgrade | Yes, No |
| Extra Set of Nozzles | Yes, No |
| Siemens Based Intelligent Sealing | Yes, No |
| 10CFM High Flow Vacuum | Yes, No |
| Auto-Cycle Add-On Option | Yes, No |
| 10CFM High Flow Vacuum for Dual Nozzle | Yes, No |
| Purge Flush Option | Yes, No |
| 1/2" Seal Width Upgrade | Yes, No |
| Nitrogen Generator Kit | Yes, No |
| Sterile Air (SA) Kit | Yes, No |
Product Enquiry